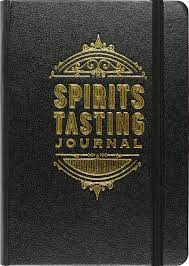 Learn the about spirits -- Whites, Browns, and Liqueurs -- and record your tasting experiences!
Pocket-sized journal provides a simple, concise, and quick method for rating and remembering your tasting adventures.

Consider this a primer to make sense of the bewildering array of bottled options as you record your notes for future reflection.

Smooth-finish pages support pen or pencil.

120 gsm paper is acid free and of archival quality.

Elastic band attached to the back cover keeps your place or keeps journal closed.

Durable, moisture-resistant hardcover binding.

Foil-stamped volume makes a nice gift.

Pocket-sized: 4-1/4'' wide x 5-3/4'' high.

192 pages.