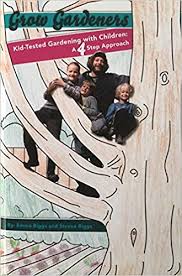 Want to inspire the children in your life to garden? Steven Biggs, a horticulturist and parent of three children (including Emma, the co-author of this book), shares tips on how to grow children into gardeners.
In four steps—Playing, Exploring, Collecting, and Growing—Biggs demonstrates how easy it is to encourage young green-thumbs-in-training from a young age.
Adults can use the engaging pictures to excite children about the garden and inspire new outdoor activities.
If you ever felt it was impossible to do yard work, grow a garden, and teach kids how to garden, this book is for you.
Steven Biggs
 has worked in horticulture and agriculture for more than 25 years. He is also the author of 
Grow Lemons Where You Think You Can't
, 
Grow Figs Where You Think You Can't
, and 
No Guff Vegetable Gardening
.
Emma Biggs
 is a young garden communicator. She raised over 130 tomato varieties in her garden in 2018—gardening in containers, in straw bales on a driveway, in a neighbour's yard, and on her garage roof. Her latest book, 
Gardening with Emma
, helps kids find the fun in gardening (and helps adults remember how much fun gardening is!)