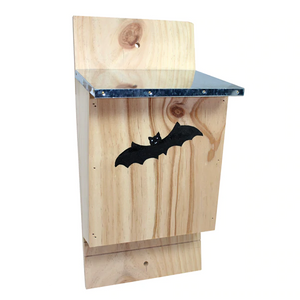 Built-in grooves on back panel for perching.

Face south to southeast to gain exposure to at least 6 hours of direct sunlight.

Bat house should be free from obstructions with at least 20′ of open space around the bat house.
Whether it's to benefit from their pollination, pest control, or you just simply enjoy their nightly displays, there are many reasons for wanting to attract bats to your backyard! Bat boxes are the perfect way to encourage bats into areas where there are few roosting sites. Holds up to 24 bats. Sturdy pine construction with metal roof. 

For best results mount at least 15′ / 3m high on an unobstructed pole or building rather than a tree.