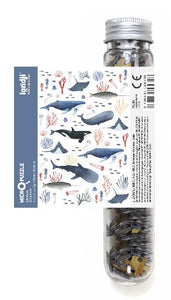 Underwater themed micropuzzle. Made in Barcelona by Londji. Illustrations by Nathalie Ouederni
A displayer ships with the required caselot order of 12 units.
In line with our motto "Toys for kids from 3 to 103 years old" we present a difficult and challenging puzzle, made of 150 minuscule pieces. This is a real challenge even for the cleverest people in the house. The pieces are so small that the puzzle fits into a test tube measuring 16cm tall and 2,5cm in diameter. Difficulty level: Hard
WARNING! Not suitable for children under three years. Small parts.