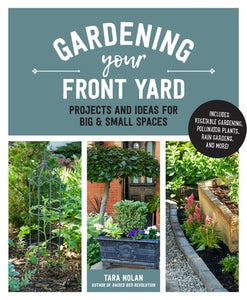 Gardening Your Front Yard is an active, inspiring resource that shows you how to treat your front yard like a backyard without sacrificing beauty, from choosing the right plants to building front patios and walkways.
With her unique combination of DIY/building savvy and gardening expertise, author Tara Nolan (Raised Bed Revolution) weaves you past the main pitfalls you may encounter when trying to fit a garden or gardens between your home and the street. This beautiful and comprehensive book shows how to accomplish several hardscape projects, such as building front patios, borders, edging, and walkways, as well as making your own raised beds, planting containers, trellises, rose arbors, privacy screens, and more—all custom-designed for the rigors of front-yard gardening.
Gardening Your Front Yard is a garden book in every sense of the word, however. Choosing the right plants is even more important when you are dealing with a small, highly visible area with less than ideal growing conditions—all common traits of most front yards. You will find advice on training vines up brickwork and planting around foundation walls, planting boulevards/hell strips, and you'll even take a trip into the side yard. Shade gardens, privacy screening, and security dos and don'ts are covered, plus how to intermingle edibles and landscape plants, cactus and succulent gardens, birdbaths, and much, much more.
With the sage advice and step-by-step projects of this comprehensive guide, convert your front yard from a bland grasscape to a vital living space.